---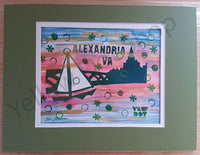 Silk screen printed art by Ellen Hamilton, with a watercolor background. Scene of Alexandria, Virginia from the Potomac River, view of the Wilson Bridge, a sailboat, and the Masonic Memorial.

Double matted with green outer mat and white inner mat. 16" wide by 12".

On thick multi-media paper. Mounted on acid free foam core. Hand mixed inks, gold ink and watercolor paint. I printed only 3 pieces like this, and one is left. This one has a gold logo in the bottom corner and is signed by me.